There is something about the smell and taste of coconut oil that transports me to an exotic beach in some idyllic location, being served ice cold drinks with those little bowls of tasty nuts.
When I first tasted Cocolife Certified Organic coconut oil, I was immediately taken to my happy place. This was a good sign so I started to plan all the inspiring ways I could incorporate some of this quality oil into my diet. To me, the flavour and health benefits of this sustainable range of oils, could easily improve my cooking and baking to reach a whole new level of deliciousness.
Who Are CocoLife?
Cocolife are an award winning company, founded by Bernadette Favis. Favis was inspired by flavours from her own childhood in the Phillipines and, motivated by these memories, set out to source and produce a high quality range of coconut oil products.  Cocolife source their organic coconuts direct from the highest quality farmers and have also gained Australian organic certification, which is no mean feat.
There is nothing like your mum's home cooking to bring comfort and warmth and ignite a passion for certain foods. This passion is what led Favis to share her love and the many health benefits of coconut oil that she attributes to her positive life growth and glowing health.  She openly states 'I live and breathe coconuts'.
I can't imagine not having a jar of coconut oil in my pantry for its versatility and flavour. Not a day goes by where I don't add it to my daily smoothie, slather it on my skin as a hydrating moisturiser or use it as a cooking medium.  I will use it in everything! From my raw caramel tarts (oh my gosh – so good!) to oven baked sweet potato chips (also amazing!!).  I recently tried Cocolife coconut oil spray which is fantastic as a quick muffin tin greaser, as well as, taking less than a second to prepare my frying pan for my morning pancakes. Awesome!
Cocolife products are also proudly:
Vegan
Ethically sourced
Australian Certified Organic
Natural, unrefined and cold pressed from fresh Philippine coconuts
Gluten Free
GMO free
Paleo and Keto friendly
Author, chef and health advocate, Luke Hines was so impressed with Cocolife's ethos and product quality, he decided to endorse their MCT Keto Tonic and Incredible Coconut Oil.  He firmly believes in the MCT Keto Tonic's  power to promote energy and drive and sharpen and focus the mind.
The MCT Keto Tonic is a pure oil which means it is 100% pure medium chain triglycerides comprised of minimum of 53% C8 fatty acids and 36-47% C10 fatty acids. These are the best fatty acids required to power up the body and mind. Find out more about MCT oil here.
Products in the Cocolife Range include:
Luke Hines by Cocolife MCT Keto Tonic
Luke Hines by Cocolife Incredible Coconut Oil
Cocolife Premium Virgin Coconut Oil Spray
Coconut Certified Organic Virgin Cold Pressed Coconut Oil
Cocolife Pure Fractionated Coconut Oil – an oil made from pure virgin coconut oil that does not solidify so is perfect as a moisturiser, massage oil or carrier oil
Another major perk of these coconut products is their nutrition profile. Not only does everything related to coconuts taste sensational, they are also nutritionally very powerful and have wonderful healing properties.   High in healthy fats, they can provide you with a direct source of energy to help you go about your daily life with a spring in your step.
They are also high in lauric acid, which is a fatty acid associated with lowering cholesterol, assisting with weight management and fat loss and helping combat fungal infections and candida.
Wow..all that from this humble tasty fruit?
All this talk of coconuts is making me very hungry.  Perfect time to whip up my mid-morning smoothie with my usual tablespoon (or 2) of Cocolife Organic Coconut Oil or maybe a hit of MCT Keto Tonic…I challenge you to try it!
you may also like
healthy oils? do you know the difference?
sesame & coconut protein bar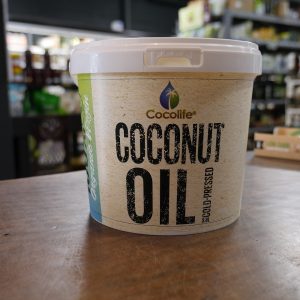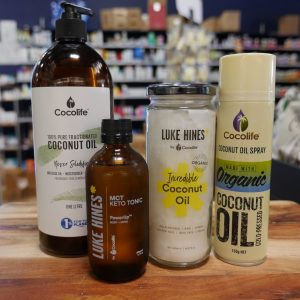 written by Emma H for go natural foods