Feeling stressed? Overwhelmed by hectic work/life schedules? Struggling with health complaints or dietary deficiencies? If so, you're not alone. So many of us muddle through day by day feeling less than par.
Two such individuals were Julze Serendipity and Daniel Whitechurch, founders and creators of  Teelixer functional tonics and superfood mushroom blends. Consistently poor lifestyle choices in their younger years depleted their health to a point where they were constantly battling illness and the effects of adrenal fatigue. Ultimately, this lack of vitality motivated them to create a range of products that helped restore their body and mind and regain their youth naturally.
Superfood mushrooms (otherwise known as functional or medicinal mushrooms) have been revered by Eastern traditions for centuries as being extremely powerful anti-ageing and immune boosting tonics.
They are also noted for their potential to improve:
Kidney, liver and lung health
Weight loss
Sports recovery
Cardiovascular support
Diabetes and blood sugar control
Stress adaptation
Hormonal balancing
To maximise the benefits of these tonic herbs, the Teelixir duo are dedicated to ensuring they are creating a clean and pure product. The mushroom ingredients are sustainably wild-harvested, tested to ensure they are free from heavy metals and are non-irradiated. Most of the mushroom powders are also Australian Certified Organic (ACO).
Wondering how on earth to consume this powerhouse food? Well, here's the exciting part. Because the nutritional benefits of medicinal mushrooms are unaffected by temperature, you can consume the powders in your daily coffee or tea, smoothie or soup. The key is to start small with only 1/4-1/2 teaspoon, taking note of how you feel and, if necessary, working your way up to a higher dose.
At Go Natural Foods you will find on our shelves these superfood mushroom powders:
Chaga: A nutritionally dense food, Chaga has shown, through considerable research, to have powerful immune boosting, skin nourishing, antioxidant supportive, and energizing effects.
Cordyceps: A superb athlete's tonic for building physical strength and power, increasing vitality and mental energy, and boosting immunity and libido.
Lion's Mane: Called the 'smart mushroom', it has been known to assist in boosting cognition, improving memory, concentration as well as improving mood and mental wellbeing.
Maitake: One of nature's richest sources of beta-glucans. These are complex natural sugars that are known for their ability to activate the immune system.
Reishi: The most widely studied herb in the world, Reishi is considered the ultimate anti-stress herb. It is used in traditional Chinese medicine to strengthen the immune system, reduce stress, increase energy and promote healthy aging and longevity.
Immune Defence: A potent adaptogenic blend of 15 wild crafted mushrooms that boost immunity, increase energy, strengthen the mind, help maintain peak performance, and promote a healthy response to physical, mental, and environmental stress factors.
 You can find out more about Teelixir and how to incorporate these superfood mushrooms into your daily health and wellness routine (including some great recipes) here.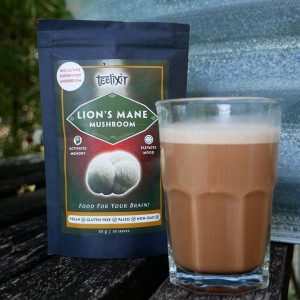 This blog is based on the personal experiences of the writer. It is not intended to take the place of medical advice, diagnosis or treatment from a health care professional.