"a veggie packed, low carb shepherd's pie that is great for the whole family"
In place of the traditional potato topping, we have used a blend of cauliflower and pumpkin. The topping mashed with coconut cream takes the flavour of this pie to the next level. Of course, there are plenty of health benefits from using an array of fresh organic vegetables, organic mince and nutrient rich bone broth. The best part is that it's full of flavour and will please even the fussiest of eaters.  I have proven this on many occasions feeding my own tribe.
 what you need
for the mince…
500g organic lamb mince
2 tbsp coconut oil
1  onion, finely chopped
4 cloves garlic, crushed
2 sticks celery, finely chopped
2 carrots, finely chopped
150g mushrooms, finely sliced
1 tsp mixed Italian dried herbs or 1 tbsp fresh herb equivalent (oregano, basil, thyme, marjoram)
2 tbsp organic tomato paste
¼ cup red wine
250ml grass fed bone broth (beef or lamb) (find recipe here)
1 tsp salt
for the topping…
½ head cauliflower, chopped into florets
500g  pumpkin, peeled and roughly chopped
1 tbsp coconut oil
¼ cup coconut cream
½ tsp salt
Pepper to taste
what to do
Heat 1 tbsp coconut oil in a fry pan and brown mince. Set aside.
Heat remaining oil in a large saucepan and fry onion, garlic and mushrooms until lightly browned. Add celery and carrot and continue frying for further 5 mins.
Add tomato paste, mince, herbs, bone broth, wine and seasonings and bring to boil. Turn down to simmer for approximately 25 minutes until the sauce has thickened.
In a large steaming pot, add the pumpkin and cauliflower and steam until both are tender. Allow to cool slightly.
Blend cauliflower and pumpkin with coconut oil, coconut cream and salt and pepper.
Transfer mince mixture to a large casserole dish. Spread topping evenly over the top of the mince.
Bake in preheated moderate oven (180 degrees) for 30 mins until bubbling and slightly brown on top.
notes
If you don't have any red wine handy, you can use a good organic balsamic vinegar or tamari sauce instead.
For a slightly different topping flavour, leave the skin on the pumpkin and roast for about 25-30 mins or until cooked through. I used a stick blender to mash the pumpkin and cauliflower together to make sure the skin is processed properly.
Serve with a crisp salad or steamed green vegetables. I used a mix of broccoli, fresh green beans and kale stir fried in coconut oil.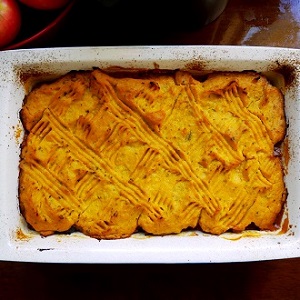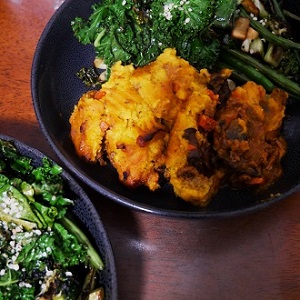 Recipe by Emma Hansen for Go Natural Foods