The crisp cool winter days are, surprisingly, when our little family spend the most time outdoors. This is because 4 out of the 6 of us are blessed with alabaster pale skin that burns to a crisp after 5 seconds in summer, plus the intensity of the sun and sweltering humidity are much less than you'd feel at other times of the year. However, before we venture outside, we're always careful to plaster on the sunscreen (we're loving 'Feel Good Inc. for sensitive skin') and ridiculously wide-brimmed hats.
Sunday seems to be our choice day to get outside for some much-needed family bonding time. If you asked the children what their preferred activities were, the best ones would definitely have to involve some sort of edible treats. So here's our shortlist…
A family bike ride culminating in a picnic in any of the local parks
We're blessed with a number of fabulous children's parks in Hervey Bay. One of our favourites is Esa Park in Point Vernon, however you'll often find us cruising along to Purple Pines, Enzo's or Torquay Train Park. If we are feeling like a shorter ride, we'll stick closer to home, ending up at Urangan's much loved Dayman Park. You can reach it all along the scenic esplanade cycle/walk trail. A bike ride would not be complete without a hamper of tasty goodies and last weekend you would have found organic mandarins, a packet of Cobbs organic popcorn, free-range chicken rolls and a Food to Nourish bliss ball each – kids were in HEAVEN!!!
Beach cricket
We'll pack up the beach cricket gear, an esky of drinks (and more snacks) and head on down to any stretch of sandy beach along the foreshore. My husband is OBSESSED with cricket…totally over the top!! It's so bad, that I now get cold shivers when I hear the first 10 seconds of the cricket theme tune on the television! So it makes sense that all four kids MUST love to watch and play the game. Nothing brings the family together like a bit of friendly  (me) or ruthless (hubby) beach cricket followed by a cool down with a bottle of Buchi Kombucha (beer flavoured for hubby, ginger and turmeric for me ).
Geocaching
Our latest little hobby is a major win for the kids as it also includes a bit of technology on Mum or Dad's phone. We've joined the exciting world of geocaching where you follow clues on an App to locate little treasures left in random locations across the Bay. If you had driven past on a recent trip, you would have seen all 6 of us scrambling around on a loose rock wall (slightly dangerous – be careful!) near the Discovery Sphere searching for a little vessel located 'just left of the grass embankment' – according to the hint. What great pleasure when we finally found it wedged in behind a small rock – success!! Of course, the outing isn't complete until we've refueled so we hang out near the giant whale (next to Discovery sphere), picnic rug spread out with our usual feast of goodies. This time we've got wraps made with salad and our latest favourite find…Gluten Free Food Co. Protein Patties. Even the baby LOVES these!
Hervey Bay is truly a spectacular little city but especially so during the winter months when getting outside is so much more pleasant.  Even sitting out the back with a cup of Oolong, watching the kids play in the yard brings so much joy. What's not to love?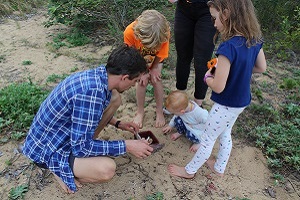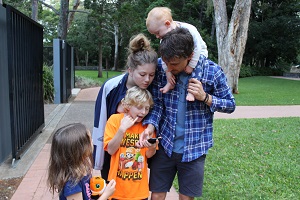 Written by Emma Hansen for Go Natural Foods
"This blog based on the personal experience of the writer. It is not intended to take the place of medical advice, diagnosis or treatment from a health care professional"
For more information regarding Hervey Bay tourism, please click on the following link: http://www.visitfrasercoast.com/Info/Visitor-Information