"the whole family will love this tasty alternative to potato chips"
 what you need
2 large heads curly kale
¼ cup hulled tahini
¼ cup lemon juice
1/2 cup + 2 tablespoons olive oil
1 tsp fermented garlic (I love Kehoe's Kitchen Fermented Garlic Paste)
2 teaspoons turmeric
½ cup nutritional yeast
¼ teaspoon sea salt
what to do
Preheat your oven to 120°C.
Rinse all of the kale leaves and pat dry with paper towel. Remove the leaves from the stems. Try and keep the leaves large. Discard the stems.
In a small bowl, add the remaining ingredients and combine until a paste is formed.
Use your hands to massage the mixture into the leaves. This will help break down the kale and ensure that the mixture completely covers the leaves.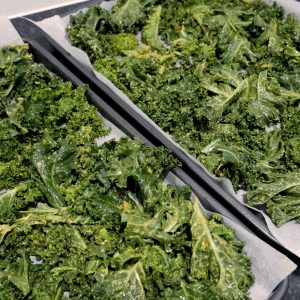 Line two large baking trays with baking paper. Place leaves in a single layer on both trays.
Bake for 50 mins, remove from the oven and turn the leaves over. Then bake for a further 20 to 25 mins. You can remove any leaves that are already crisp and place on a clean plate and then continue to bake the rest.
Once cooked, remove trays from the oven and allow the leaves to cool before placing in a bowl or container. Any residual heat can cause the leaves to loose their crispiness.