A great post workout or lunchbox snack using Proganics new Plant Based Plus protein powder to take the protein power of this bar to the next level!
what you need
1/4 cup chia
1 cup water
1 cup banana, mashed
1/4 cup raw honey
2 tbsp nut or seed milk (I used Ulu Hye Hemp Mylk Base)
1 tbsp vanilla extract
2 tbsp cashew nut butter
1/2 cup coconut flour
80g Vanilla protein powder (I used Proganics Plant Based Plus Protein Powder)
1/4 cup flaxseed meal
1 tsp ground cinnamon
1/2 tsp aluminium free bicarb soda
1/4 tsp ground nutmeg
1/4 tsp sea salt
3/4 cup grated carrots
1/4 cup dried cranberries
80g raw dark chocolate
1/2 tbsp coconut oil
what to do
Preheat oven to 200°c. Line a slice tray with baking paper.
Combine chia seeds and water in a bowl. Leave for 10 mins to start to create a gel.
Combine chia mix with the banana, honey, nut milk, vanilla, nut butter in a large bowl with a hand mixer. You could also mix in a food processor.
Combine the coconut flour, protein powder, flaxseed meal, cinnamon, nutmeg, bicarb soda and sea salt in a small bowl until mixed well. Add this dry mix to the chia mix and mix until smooth.
Add grated carrots and raisins and gently fold through the mix until evenly combined.
Spoon mixture into the lined slice tin and the place into preheated oven.
Bake slice for 30-35 minutes, or until skewer comes out clean and the slice is golden in colour.
Remove from oven and allow to cool on the pan for 5 minutes before removing to a cooling rack
Let slice cool completely so it is ready to be topped with the chocolate.
Melt raw dark chocolate and coconut oil together. Allow to cool for approximately 5 minutes then drizzle over the slice in any way you like.
Place in the refrigerator to allow the chocolate to set. Once set cut into bars.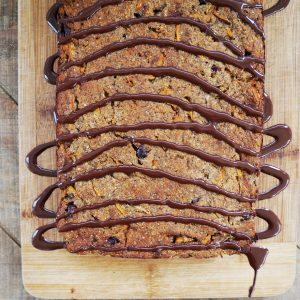 recipe by Kristin Jackson for Go Natural Foods