Celebrate and spoil Mum this Mother's Day with some great gift ideas to let her know how much you love and appreciate her.
What better way to say thank you this Mother's Day than with these 5 gift ideas she's sure to LOVE…
Lemon Myrtle Fragrance Soaps – plain and exfoliant
Leave Mum feeling uplifted with these delightfully refreshing soaps made from soothing macadamia oil and Australian lemon myrtle oil. Mum will love the feel and smell of this soft, gentle cleansing bar. Vegan and not tested on animals.
Luvin' Life Bath Salts 750g: Pamper Mum with a deeply relaxing bath or foot soak using this nurturing range of magnesium and Himalayan salts.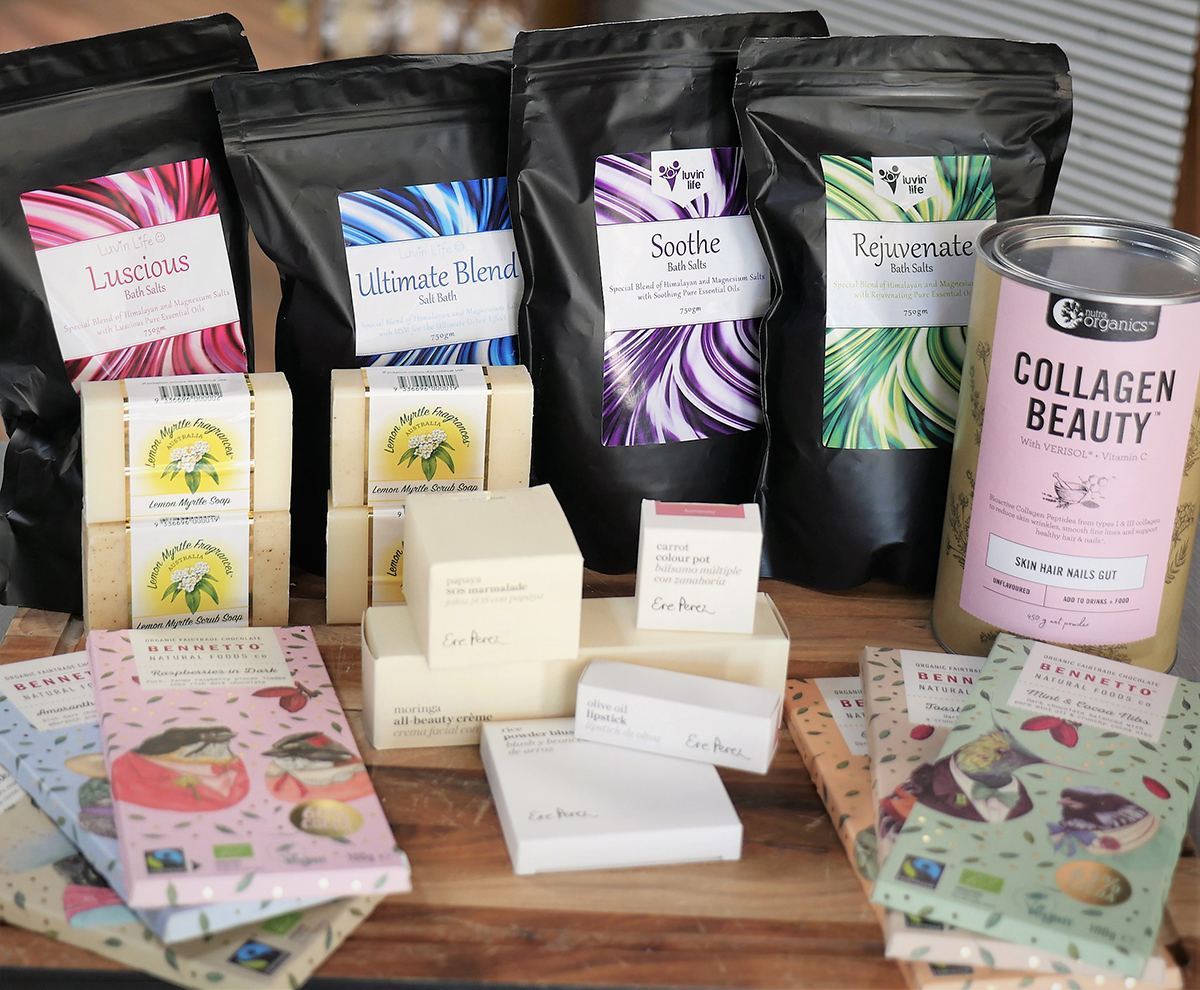 Choose from:
Rejuvenate: a refreshing blend of orange, spring blossom and ylang ylang in a magnesium and Himalayan salt base.
Luscious: balance mind, body and spirit with a blend of rose geranium, frankincense and bergamot pure essential oils.
Soothe: soothe aching tired and aching muscles with this mix of wildflower, lavender and vetiver oils.
Ultimate Fragrance Free: for Mums with sensitive skin, this blend contains sulphur for extra relaxation and pain relieving benefits.
Ere Perez Makeup and Skincare
Spoil Mum with an item from our toxin-free Ere Perez make up and skin care range. Using unique Australian botanical ingredients to nourish, protect and enhance the skin, this delightful range will strike a balance between performance and revitalising the skin.
Pop in store and chat to our friendly staff about which item could best suit your Mum's skin tone and features.
Nutra Organics Hair, Skin and Nails Beauty Collagen
A staff favourite, this enriching collagen will sure to be a winner with Mum to help her glow from the inside out. Formulated with Verisol Bioactive Collagen Peptides with added Camu Camu and Horsetail. A daily dose may help improve fine lines, wrinkles, increase skin hydration and elasticity, and support healthy hair and nails. Sounds like a dream for most Mums!
Bennetto Chocolate Range:
Finally, you cannot go wrong with a bar of Organic, Fairtrade Bennetto chocolate. This is a chocolate to feel good about as it uses organic, Amazonian sourced cocoa, is vegan friendly, gluten free and packaged in environmentally recyclable materials.
Choose from:
Raspberries in Dark
Intense Dark
Toasted Hazelnut
Amaranth & Sea Salt
Orange with Chilli
Mint and Cocoa Nibs